Wire Rope Hoist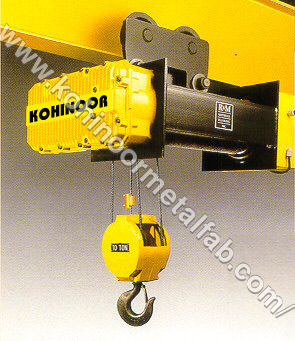 Wire Rope Hoist
Wire Rope Hoist
Our company is one of the progressive & prominent manufacturers, suppliers and exporters of Wire Rope Hoist. We have well skilled procuring agent who procures high grade metals from authentic vendors to manufacture, these rope hoists as per industrial standards. These rope hoists are weather resistant and demanded among our clients for their high load carrying capability, smooth finish and impeccable strength. Wire Rope Hoist finds huge use in construction and engineering industries.
Special Features

High Efficiency
These are Designed for high speed operation to increase productivity.
Precision workmanship of a components minimize losses and increases efficiency.

Short Operation

Smooth operation is ensured by gears having recision machine cut teeth subjected to heat treatment.
Hoists are provided with antifrictional bearings on all high speed rotating parts.
Machined components parts are checked by limit gauges.
All parts of the hoists requiring maintenance are made easily accessible.
Number of parts requiring frequent maintenance is kept minimum.
Wearing parts can be easily removed and replaced thus reducing down time.

Rigid Inspection
Stern inspection procedures at all stages of manufacture ensure unfailing dependability.

Specific Design Advantage

Design
Hoist are designed for all classes of application as per IS-3938. Standard Design is class II

Modular construction
Hoist is assembled from different independent units viz. Hoisting gear box,Motor & break, Rope Drum, Ele. Control panel, Travailing trolley. All these units are separately accessibe and promtly disassembled to simplify repairs, reduce maintenance cost and downtime.

Main frame
M.S. Plates are fastened with number studs to withstand the load of the Different independent units attached to it.

Wire Rope
Hoisting rope comply with the Indian Standards. The Leading rope taken by the Drum, does not slip sideways when stack. The factor of safety on the nominal breaking strength of the rope is six.

Rope Drum with Guide
Grooved Drum, Seamless Pipe of adequate length to be wounded in one layer and to provide proper support for the rope to minimize abrasive wear is provided. Rope guide is in two halves, ensuring easy accessibility. It encircles the drum completely so that the rope may not uncoil even when the Hoist is in unloaded condition.

Motor
Hoist motor is an Specially rated for Crane duty with minimum 40% CDF Rating and class B Insulation. The unit is an IP 54 dust and damp roof enclosure. Flange mounted.

Gear Box
Hoist gear box has specially treated gears for high wear resistance. Each gear shaft assembly is suorted on bal o roller bearings. to ensure smooth operation. The gear trains are grease lubricated.

Break
We are using Electromagnetic fail-safe type break mounted externally on the rear end of the Hoisting Motor ensuring easily accessibility.

Ele. Control panel & Limit Switches

Controls are Mechanically & Electrically Interlock to prevent inade-vertent operation. A low voltage control system with 24 volts. Limit switches are given for preventing over hoisting or over lowering of hook.The Tri positions are adjustable to allow correct setting for

installation.

Hook Block
The Hook Block is tested to 150% of full Load before assembly. The Rope sheaves are fully guarded with protective steel castings. All Sheaves rotate on ball bearings.

Gurantee
A Guarantee is provided for the repair and replacement, which proves defective material or workmanship within one year of the sale on Ex.Works basis. However electrical appliances are not covered in this guarantee.
KOHINOOR METAL FABRICATORS
Plot No. 7314/8, Near Karmatur Square, G.I.D.C., Ankleshwar - 393002, Gujarat, India
Phone :+919632490255
Mr. Vipul P. Rathod (Proprietor)
Mobile :+919632490255