H.O.T. Crane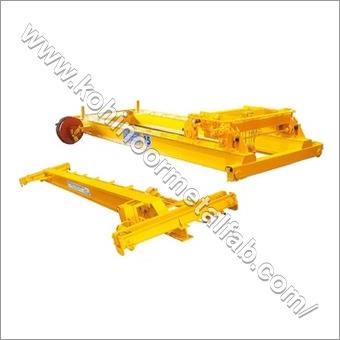 H.O.T. Crane
H.O.T. Crane
Backed by the sound infrastructural facility and experienced personnel, our company has been able to emerge as one of the renowned manufacturers, suppliers & exporters of H.O.T. Crane. Made up of excellent quality metals, these cranes are extensively used for lifting different kinds of material from ground to any space of workshop area. Robust construction, high load carrying capability and flawless finish are the distinguished features of these cranes. With the assistance of our experts, we are able to fulfill bulk order of H.O.T. Crane.
Further Details:
GENERAL
The H.O.T. Crane is designed for lifting material from ground to any space of workshop area.The operation is thru Hand Chain which is fitted with Cross travel Beam at left side.
Kohinoor H.O.T. Cranes are Designed and manufacture in accordance with following I.S. Specifications
I.S. 807-1963 : Code of Practices for Design, Manufacture, Erection and Testing ( Structural Portion) of Cranes and Hoists.
I.S. 3177-1965 : Code of Practice for Design of overhead Traveling Cranes and Gantry cranes other than Steel Mill Cranes.
I.S. 4137 : Code of Practice for Design of Steel Mill Duty Cranes. Kohinoor H.O.T. Cranes are manufactured with the following in view
To provide best quality product with the available resources and lowest possible price.
To reduce maintainance Down Time
To give Aesthetic appearance to help the worker who works round the clock.
OPERATION LOGIC
Hoist can lift material Up & down. Electrical Trolly for Hoist can move Hoist with load Left & right on C.T. Beam.End Carriage can move C.T. Beam Forward & Reverse motion

Chain Hoist
We are provide Brand or Brand Chain pulley Block with HOT crane. Purchasing of Chain Pulley Block is optional.

CROSS TRAVEL
The main bridge Girders are fabricated from high quality IS beam or steel plates forming a rectangular box section. To achieve the desired stiffness diaphragms are fitted at regular distance as per I.S. requirement. The girders are provided with the required camber so that the Girder deflection in full load condition will remain well within its allowable limit of 1/900.

END CARRAIGE / CRAB :
The crab is a heart of entire Crane which carries Hoisting unit. Hence it is designed and manufactured with utmost care. The crab is manufactured from M.S. Plates and rolled steel sections. which is also provided with cross traverse wheel running on "L" type bearing housing assembly similar to that of L.T. wheel assembly. For heavy duty application, entire crab is

fabricated out of M.S. Plate. The crab is carrying hoisting and cross Traverse unit with necessary brake assembly.

LONG TRAVEL
Long Travel is generally made from ISBM and capping of channel or both side Equal Angle and the rail for crane rail is made from bright square bar or from the rail beam.
KOHINOOR METAL FABRICATORS
Plot No. 7314/8, Near Karmatur Square, G.I.D.C., Ankleshwar - 393002, Gujarat, India
Phone :+919632490255
Mr. Vipul P. Rathod (Proprietor)
Mobile :+919632490255