E.O.T. Crane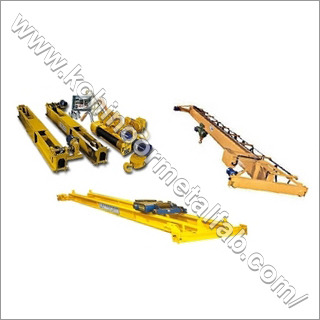 E.O.T. Crane
E.O.T. Crane
Owing to our wide experience in this domain, our company is counted among the foremost manufacturers, suppliers and exporters of E.O.T. Crane. Widely used in diverse industries for materials handling, these cranes are manufactured under the guidance of our professional utilizing sophisticated technique. Owing to their apt design, supreme load bearing capacity and durable finish standards, these cranes are demanded by construction and engineering industries. Apart from this, clients can buy E.O.T. Crane within stipulated time frame.
The E.O.T. Crane is designed for lifting material from ground to any space of workshop area.The operation is thru pendant push button which is fitted with Cross travel Beam at left side. Other push button is fitted with panel board for testing purpose.No 0peration is from under Hoist for safety point of view. Kohinoor Single Girder E.O.T. Cranes are Designed and manufacture in accordance with following I.S. Specifications.
I.S. 807-1963 : Code of Practive for Design, Manufacture, Erection and Testing ( Structural Portion) of Cranes and Hoists.
I.S. 3177-1965 : Code of Practice for Design of overhead Traveling Cranes and Gantry cranes other than Steel Mill Cranes.
I.S. 4137 : Code of Practice for Design of Steel Mill Duty Cranes.
Kohinoor E.O.T. Cranes are manufactured with the following in view
To provide best quality product with the available resources and lowest possible price.
To reduce maintainance Down Time
To give Aesthetic appearance to help the worker who works round the clock.
OPERATION LOGIC
Hoist can lift material Up & down. Electrical Trolly for Hoist can move Hoist with load Left & right on C.T. Beam.End Carriage can move C.T. Beam Forward & Reverse motion.

HOIST
Construction
The hoist is of fabricated construction with no castings. It consists of separate units such as motor, brake, housing with drum, gear box, electrical control panel and travailing trolley. All the units are easily accessible for repairs and maintenance without disturbing other parts.

Sub-assemblie
Hoist motor with brake: It is a heavy duty squirrel cage induction motor having a high starting torque. The motor is continuously rated and suitable for frequent reversing and braking. Motor is fan-cooled and totally enclose with a disc-type spring loaded fail safe brake. the brake and motor asse-mbly are easily accessible for maintenance. a range of lifting speed is available.

Gear box with bearing
Gears are manufactured from high alloy steel. The gears are accurately cut by a generating process on gear hobbing and gear shaping machines.This ensures proper meshing and smooth running of gears. Gears are case-hardened to withstand impact load and have high wear resistance.Gears are mounted on ball bearings/taper roller and enclosed in grease bath for constant lubrication.

CROSS TRAVEL
The main bridge Girders are fabricated from high quality IS beam or steel plates forming a rectangular box section. To achieve the desired stiffness diaphragms are fitted at regular distance as per I.S. requirement. The girders are provided with the required camber so that the Girder deflection in full load condition will remain well within its allowable limit of 1/900.

END CARRAIGE / CRAB
The crab is a heart of entire Crane which carries Hoisting unit. Hence it is designed and manufactured with utmost care. The crab is manufactured from M.S. Plates and rolled steel sections. which is also provided with cross traverse wheel running on "L" type bearing housing assembly similar to that of L.T. wheel assembly. For heavy duty application, entire crab is fabricated out of M.S. Plate. The crab is carrying hoisting and cross Traverse unit with necessary brake assembly.

Twin Drive Arrangement.
In this arrangement L.T. Drive system is provided at each end carriage by individual driving system. Both the drive comprises of a motor, gearbox,floating shaft and Universal joint assembly. The floating shaft is connected to the L.T. Wheel and gear box by means of flexible geared coupling. The motor and gear box are connected by means of Universal joint.

LONG TRAVEL
Long Travel is generally made from ISBM and capping of channel or both side Equal Angle and the rail for crane is made from bright square bar or from the Railbeam.
KOHINOOR METAL FABRICATORS
Plot No. 7314/8, Near Karmatur Square, G.I.D.C., Ankleshwar - 393002, Gujarat, India
Phone :+919632490255
Mr. Vipul P. Rathod (Proprietor)
Mobile :+919632490255